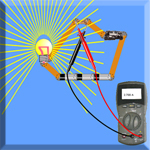 Software Spotlight
Articles
Our Partners
The CAPA Project
What are performance assessments?
Multiple-choice tests typically depend on memorization and step-by-step questions to probe a student's understanding of complex processes. Assessing the hands-on abilities of a student or prospective employee is best done with real, and often costly, performance assessments. What if a computer program could simulate such assessments and even objectively assign a grade? [More…]
Download software
We have simplified our software download and installation process. In addition, our Analog (DC) Circuit Troubleshooting assessment is now available! [More…]
If you have already downloaded the required software and are ready to run the assessments, or use them with your students, go directly to the CAPA Project Portal.
What's new?
CAPA project team members will present at the ATE conference in Washington, D.C., October 29-31, 2008. [More…]
Thank you to the electronics students at Weber State University for helping test our assessments... [More…]
We presented at the SAME TEC conference in Austin, TX on July 31, 2008. [More…]
About the CAPA project
In May, 2006, we embarked on an exciting three-year project to demonstrate the feasibility and cost-effectiveness of computer-assisted performance assessment for evaluating students' knowledge and abilities in advanced technological education. With the support of the Advanced Technological Education Program of the National Science Foundation (NSF Award 0603389), we have developed the first of a planned series of performance assessments of students' understanding of key topics in introductory electronics, focusing on their ability to use and interpret readings from two common instruments: the oscilloscope and the digital multimeter. These two assessments (Using a Multimeter and Using an Oscilliscope) challenge students to make a measurement and monitor the steps they take as well as the answers they give. This data is analyzed in real time and a numeric grade is computed. The rubric involved in this computation is available to, and may be modified by, the teacher. [More…]